Corporate Team Building
Full Circle Farm has become the destination for team building and community & social responsibility initiatives for many leading organizations in Silicon Valley, including NVIDIA's Project Inspire, NetApp, Hewlett Packard, Intel, SAP, Applied Materials, Yahoo, Intuit, Deloitte, Google, and many more.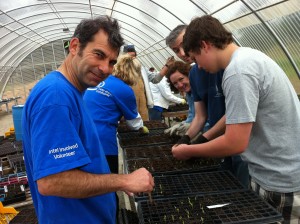 Our 11-acre farm provides the ideal location for volunteer groups, large or small, to bring their team building events and social responsibility initiatives. Events have lasting, local impact that participants can feel good about on the day of the event and revisit later with friends and family. Show that your organization's values genuinely reflect your members', your employees' while deepening your connection with your surrounding community.
For a small fee, we can manage the whole Farm Team Building event. If your goals and budget allow, you may choose to fund a project on the farm and actually have your group help implement it. Custom tailored events or a series of events are also an option.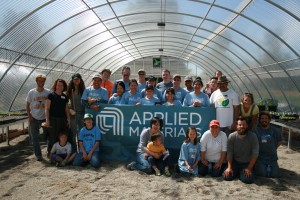 Whatever your organization's goals may be, contact us to arrange your own special event. The majority of our organization partners return over and over again, and we welcome the opportunity to establish an ongoing relationship that is beneficial to all involved.
Contact us soon to set up your event! info@fullcirclesunnyvale.org