Little Seeds Workshop
Little Seeds offers workshops, classes, and special events for young children giving them the opportunity to connect with nature while learning about plants, gardening, and life science skills. They are led by enthusiastic, knowledgeable, and highly qualified, teachers and staff.
All of the workshops, classes, and events are designed to cultivate curiosity and creativity through guided instruction and child-led, hands-on activities. They connect children with their peers, the adults around them, and nature. Give your child the opportunity to get dirty, be creative, make friends, and blossom with Little Seeds Workshop.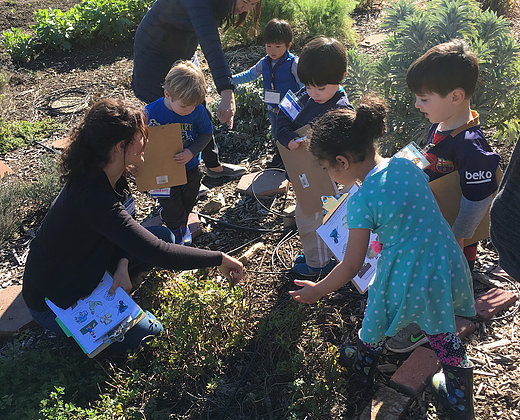 Garden Explorers
$20.00 | Want to know what a class is like or just have some free time to join us? Drop on in!
Spring is on its Way!
Little Seeds eight-week Spring Sessions meet at Full Circle Farm in Sunnyvale (1055 Dunford Way, Sunnyvale, CA 94087). Children and their parents or caretakers will have a unique experience learning together on a working farm! Our Spring Session will focus on nature-based topics rooted in this season of blooming, new growth. We will sing songs, read books, plant seeds, dissect plants, work with worms, eat straight from the garden and dig in the dirt. Here is a sneak peek of our syllabus for the session…
Spring Class Topics (subject to change):
Class 1: All about the farm
Class 2: Tools of the Trade
Class 3: Exploring and planting seeds
Class 4: Discovering our Roots
Class 5: Stems and leaves
Class 6: Flowers and Fruit
Class 7: We can eat that: harvesting from the garden
Class 8: Pretty, pretty, pollinators (the buzz on bees)
Little Seeds Workshops foster children's natural curiosity and tap into their innate connection with nature. Our toddler enrichment workshops and classes are tailored to teach the youngest of gardeners and naturalists through hands-on work and play. It is a one-of- a-kind experience for your child to learn about plants, gardening, and life science skills. Each of our classes will include a take-home resource guide to explore with your child after class.
This class is offered for children ages 2 – 5, and their parent or caretaker (no drop-offs, please!) Classes are 50 minutes long, and will occur weekly, on Wednesdays + Fridays *Note: No class on Friday, April 7, 2017. Please dress in appropriate gardening clothes. An adult must accompany each child, and all are encouraged to participate.